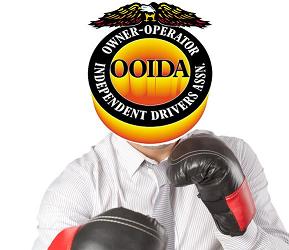 The date has been set for the opening arguments in what is sure to be one of the biggest legal battles in trucking. One side bills it as a fight for safety, and the other side claims to fight for privacy, constitutional rights, and small business owners. It's OOIDA vs. the FMCSA's federally mandated Electronic Logging Device (ELD).
The Federal Motor Carrier Safety Administration (FMCSA) has been fighting to put ELDs in trucks for years now to replace the pen and paper log system. They are also commonly known as Electronic OnBoard Recorders (EOBRs) and E-logs.
According to the FMCSA, using ELDs in trucks will make our roads safer by more effectively enforcing the hours of service rules. Some companies even use ELDs to track an increasing pile of data including driver location, speed, fuel efficiency, braking habits, performance, footage using front- and driver-facing cameras, and more.
The Owner Operator Independent Driver's Association (OOIDA) has put forward many different arguments against mandatory ELD use in commercial motor vehicles. They claim for example that:
There is no proof that ELDs decrease crash risk
ELDs are no more accurate than pen-and-paper logs
Dispatchers could use data gained from ELDs to harass drivers
Prohibitively expensive systems could drive small carriers and owner-operators out of business
Mandatory ELDs violate drivers' fourth amendment right to be free from unreasonable searches and seizures
This is not the first time OOIDA has taken the FMCSA to court over ELDs. Twice before a court has ordered for the FMCSA to go back to the drawing board with the rule, most recently because the ruling failed to sufficiently protect drivers from harassment. While anti-harassment rules were put in place, OOIDA claims that they are not enough.
A panel of three judges for the Seventh Circuit Court of Appeals in Chicago will hear the case this time. OOIDA has filed the case as the main plaintiff, but also named are two OOIDA members, Mark Elrod and Richard Pingel. Both Elrod and Pingel were named as plaintiffs in the case brought successfully by OOIDA in 2011. Opening statements are scheduled for September 13th.