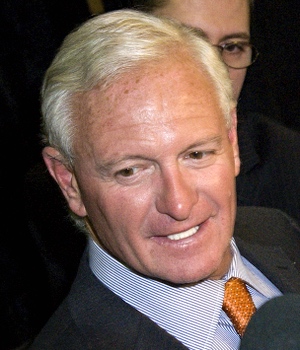 Almost three years after FBI and other federal agents raided Pilot Flying J headquarters as part of an investigation into the now infamous fuel rebate scam, Jimmy Haslam, the CEO of Pilot Flying J, will be deposed over the lawsuits currently pending against him and his company.
So far, the fuel rebate scam has seen 18 federal indictments, 10 guilty pleas from former employees and executives of the company, and over $100 million paid by the company in fees and restitution to companies who were swindled by the fraudulent scheme. Even Mark Hazelwood, former president of PFJ was recently indicted on charges including conspiracy to commit mail fraud, wire fraud, and witness tampering, but so far the head honcho, Haslam, has not been charged with a crime. He is however being sued by Wright Transportation and several other carriers in connection with the fuel rebate scheme.
In the affidavit issued by the FBI, confidential informants repeatedly placed Haslam in the room when details of the fuel rebate scheme were being discussed. The confidential informant even recorded a conversation where the Vice President of Sales, John Freeman, said flat out that Haslam knew about the scheme:
FREEMAN: I mean, I called Jimmy and told him I got busted at Western Express.
CONFIDENTIAL INFORMANT: What'd he say?
FREEMAN: Oh he knew it.
CONFIDENTIAL INFORMANT: Oh did he?
FREEMAN: Absolutely. I mean, he knew all along that I was cost-plussin' this guy. He knew it all along. Loved it. We were makin' $450,000 a month on him–
CONFIDENTIAL INFORMANT: Holy ****!
FREEMAN: — why wouldn't he love it?
Since the very beginning however, Haslam has maintained his innocence and insisted that he did not take part in the scheme or know anything about it. The difference now is that during the deposition, he will be under oath.
"He's never, ever had to sit under oath live and answer the hard questions about his knowledge and his participation with regard to the fraud," said an attorney representing Wright Transportation according to The Tennessean.
The deposition was actually already supposed to have happened, but Haslam's lawyers had filed an appeal, trying to argue that he did not need to be deposed. When a judge ruled against them and ordered the deposition anyway, they changed their tune saying that they are "eager to put it behind us. For that reason, Mr. Haslam is willing to schedule a deposition."
His willingness to be deposed doesn't come without conditions however. According to documents submitted by Haslam's lawyers, he will only agree to be deposed "so long as the deposition proceeds in the orderly manner outlined below":
The proposed deposition date doesn't work for him and so will need to be changed.
The deposition must take place during one seven-hour day.
The deposition must be coordinated across all the currently pending civil cases, so that he only has to be deposed once.
The deposition will only be scheduled after the 11th Circuit Court of Appeals determines whether the case will be heard in state or federal court.
Though the deposition is out-of-court testimony, any information gathered could possibly be used in a trial brought against him.
In addition to being the CEO of Pilot Flying J, Jimmy Haslam is also the owner of the Cleveland Browns, and brother of Tennessee Governor Bill Haslam who also has a partial ownership in the $33 billion truck stop chain which has over 650 locations across North America.